Jesus, Others, You - JOY
by Cathy Ollis
When Jesus summarized the Commandments, his priority was that we love God and love our neighbor as much as we love ourselves. When we were children, many of us learned the acronym JOY - Jesus, Others, & You. Quoting the Scripture is sometimes easier said than practiced until disaster strikes.
Jesus replied: "'Love the Lord your God with all your heart and with all your soul and with all your mind.' This is the first and greatest commandment. And the second is like it: 'Love your neighbor as yourself.'" Matthew 22:37-39
During a devotion at a feeding site, a Red Cross volunteer shared that near the end of one of his food distribution routes he discovered 4 or 5 houses in a flood damaged rural area that was not on his map. When the worker arrived, a group of children were playing outside while parents were hard at work moving from house to house helping each other tear out damaged floors and walls. One resident remarked, "This is what it means to be community." Before getting a count of the number of adults and children, the Red Cross volunteer asked if they could use a meal since he still had some on his truck which had been prepared by a NC Baptists on Mission feeding team. He checked his inventory. There were 20 meals meaning that all 19 residents of the community were fed. Because of our love for God, we serve others in the name of Christ.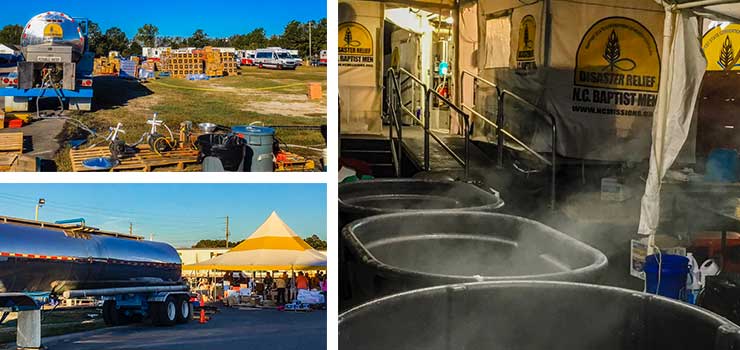 She was considered to be rich by the community devastated by the flood. Her home was not destroyed and she still had her job as manager of a phone kiosk in a local store. When the poor woman stopped by the kiosk to get more minutes for her phone, she shared that she had lost everything in the flood and had no place to live. Responding immediately to the need, the manager of the kiosk offered to give the lady a small trailer. Within a couple of days, Baptists on Mission volunteers made arrangements to move the trailer to the a site where the homeless woman would have a place to live as she begins a new phase in her life. Partnering with others to provide shelter for the homeless is a way of showing Christ's love for others.

As volunteers at a disaster relief site settle into their sleeping quarters, the rooms become a meeting point for getting to know individuals from a variety of places and experiences. For a few days, a Sunday School classroom assigned to women includes volunteers from North Carolina, grandmothers from New Jersey and Texas, and young mothers from Pennsylvania. They are answers to calls for help as they demonstrate their love for God and these neighbors who are miles away from their own homes.

"The Mission God Has Given" written by Jan McGuire reminds us as Baptists on Mission of our commitment to putting Jesus and Others ahead of ourselves.

The mission God has given, to tell the world of grace,
Must start by seeing Jesus in every human face.
Each time we feed the hungry or shelter those in need,
The love of Christ, our Savior, is present in the deed.

When acts of true compassion accompany God's word,
The message of salvation is seen as well as heard.
The bounty of our blessings we all must freely share
So those who need the Savior will know we really care.

Our call to share the gospel with people near and far
Begins with those around us, no matter where we are.
To spread the global message that Jesus is the Way,
Then we must mirror Jesus in how we live each day.

© Celebrating Grace, Inc.

For more information on helping with Hurricane Matthew efforts go to: www.baptistsonmission.org/hurricanematthew