Our Community Needs Us
Particularly in a year that has been full of curveballs and challenges.
Whether it's the lingering effects from natural disasters in our state, or the economic scarcity that so many are experiencing due to Covid-19, the discouragement can seem overwhelming. There are many North Carolina families who lack safe, secure housing. They are the reason that Baptists on Mission desires to step in and step up. And for more than 43 years, we've responded with resources, services and prayer when communities needed us most.
This is our chance to glorify God. And a reminder that even when hard things happen – in all things – God is working for good. But we can't do this alone. We need YOU to partner alongside us in the new year. And there are many ways you can. Learn how now.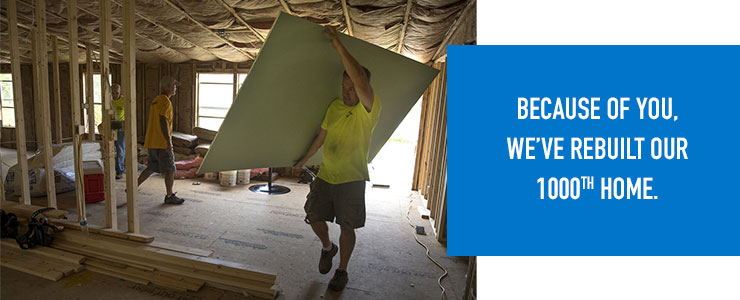 Celebrating ONE THOUSAND Homes
The effects from a natural disaster can be long lasting. But at Baptists on Mission, we seek to provide a light at the end of the tunnel through safe and secure housing. We are dedicated to transforming the lives of our NC neighbors by being the hands and feet of Jesus. This year alone, we've completed our goal of rebuilding 1000 homes devastated by Hurricane Florence. And we're not stopping there!
YOUR generosity has enabled us to reach this milestone. Donors, churches, sponsors and volunteers have all played a part in this Kingdom work. We are stronger together! Your continued investment through time, treasure and prayer will ensure we can continue to deliver relief today and hope for tomorrow for those who need it most in NC.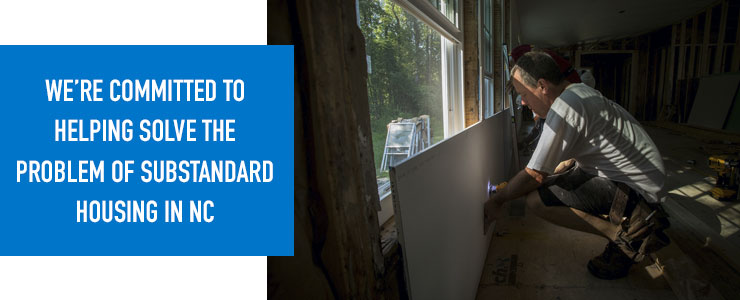 Our Commitment
In addition to our relief work, which we will continue to undertake whenever and wherever we're called, we are also committed to helping solve the problem of substandard housing in NC. Substandard housing poses a risk to the health and safety of families, their neighbors and the community. It also results in an increased risk of disease, crime and poor mental health.
With your support, we can help change the reality of families by providing safe, healthy homes. Homes where families are set up to experience the hope and promise God has for us all. We invite you to join us on this journey!

From the bottom of our hearts, THANK YOU for your generosity and care for our community. Thank you for helping us build back what was lost. Thank you for your investment in providing relief for today and hope for tomorrow!