Ukraine Crisis Update: April 19, 2022
When Russia invaded Ukraine on Feb 24 of this year, Baptists on Mission began mobilizing immediately. Currently we're working with refugees in Poland, Moldova, Hungary and inside Ukraine with internally displaced people, particularly in the western part of Ukraine. We've had a long history of involvement in Eastern Europe and this has opened doors for us to minister across the region right now during the Ukraine war crisis.
Poland
From 1989-1993, NC Baptists had a partnership in Poland. NC Baptists built the seminary located just outside of Warsaw which is now being used to house Ukraine refugees and we are sending teams every week for the next 8 weeks. Those teams are also staying and working at the seminary. We also have teams working at other locations.
Moldova
Starting May 1, 2022 we will begin sending a weekly team of volunteers to work at the refugee center just outside of Chisinau - helping in the kitchen, helping with laundry, providing children's ministries, and general cleaning. NC Baptists have had a partnership with Moldova Baptists for the past 10+ years. Because of these relationships Moldova Baptists have asked us to help them with their refugee center which is housing about 300 refugees. These refugees – mostly women and children – can come at short notice. Some stay for a few days and then move further into Europe. Others are beginning to stay for longer periods, hoping to return home when it is safe to do so.
Hungary
Since 2008 we've been working in Hungary, Romania and Ukraine with a partner organization, Hungarian Baptist Aid (HBAid) and we are now assisting their relief work brought about by the war. Volunteers are working near the border assisting refugees who are crossing into Hungary. They provide hot meals and daily supplies as well as prepare sleeping arrangements for up to 60 people.
We are also working at a warehouse owned by Hungarian Baptist Aid as well as schools they operate which are providing housing for refugees. Working with HBAid, NC volunteers are also helping with temporary housing for displaced families and providing food and essential supplies to families escaping Ukraine and going into Hungary.|
Ukraine
From 1994-2000, NC Baptists had a full partnership with Ukraine Baptists. Now we are working with the Ukraine Baptist Union as well as the Lviv Seminary (UBTS). We are working to send funds to purchase food that is being taken into central and eastern Ukraine to feed people who are being housed in Baptist churches in the war zones. Baptists on Mission has sent funds to help purchase food, medical and baby supplies as well as hygiene items. Our partners, House of Hope, gather items and then provides them to Baptists churches who take them into the actual war zone to offer relief to people who have nowhere else to turn. Our hope is to have a long term partnership in Ukraine once the war has ended.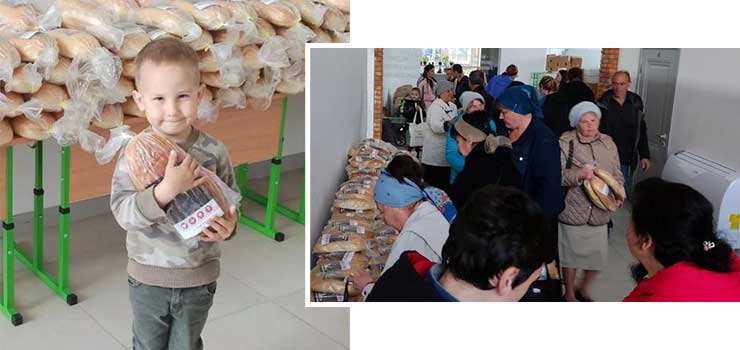 Working with HBAid, BOM volunteers are also working at a warehouse distributing supplies and ministering to 100,000 internally displaced people in a region of Ukraine that is near the border with Hungary. We are also setting up a mobile kitchen to provide hot meals as well as sending medical teams to help in that region of Ukraine.
There will be many additional opportunities to be on mission in Ukraine as soon as the war ends. Please pray for the war to end and pray for God to be glorified among the people of Ukraine. For more information go to https://baptistsonmission.org/ukraine-crisis